Message from the Board
The end of 2017 is night and we are getting close to the end of the year, holidays of all kinds, and of course the Annual Meeting on December 5th at the Mansion on O Street.
Part of this time marks the transition from the 2017 DC Chapter Board of Directors to the 2018 Board.
The election in September/October was successful and we have a new board coming into leadership for 2018.
Jesse A Lambertson, President
Brittany Ham, President-Elect
Konrad Riecke, Programming Chair
Karen White, Secretary
David Blum, Communications Secretary
Lissa Snyders, Technology & Innovations Director
Layla Heimlich, Treasurer
Dan Odenwald, Assistant Treasurer
Jocelyn McNamara, Sponsorship Chair
December 5th 2017, at the Annual Meeting, we will have the official hand-over from 2017 to 2018 leadership.
If you are interested in finding a way to contribute to the vitality of the chapter in 2018, please reach out to Jesse@meta21st.com with ideas. There will be a new schedule for board meetings put up on the chapter events calendar – watch for that. These board meetings are open for SLA members to attend.
The Chapter is working with SLA HQ on a membership test that opens the door to new possible members to get access to most membership perks for a limited time. We will want to up our game at events and in outreach in order to show the best of what DC/SLA has to offer.
Thank you
See everyone at the Annual Meeting on 05 December at Mansion on O Street.
Past Events
Dinner with the Board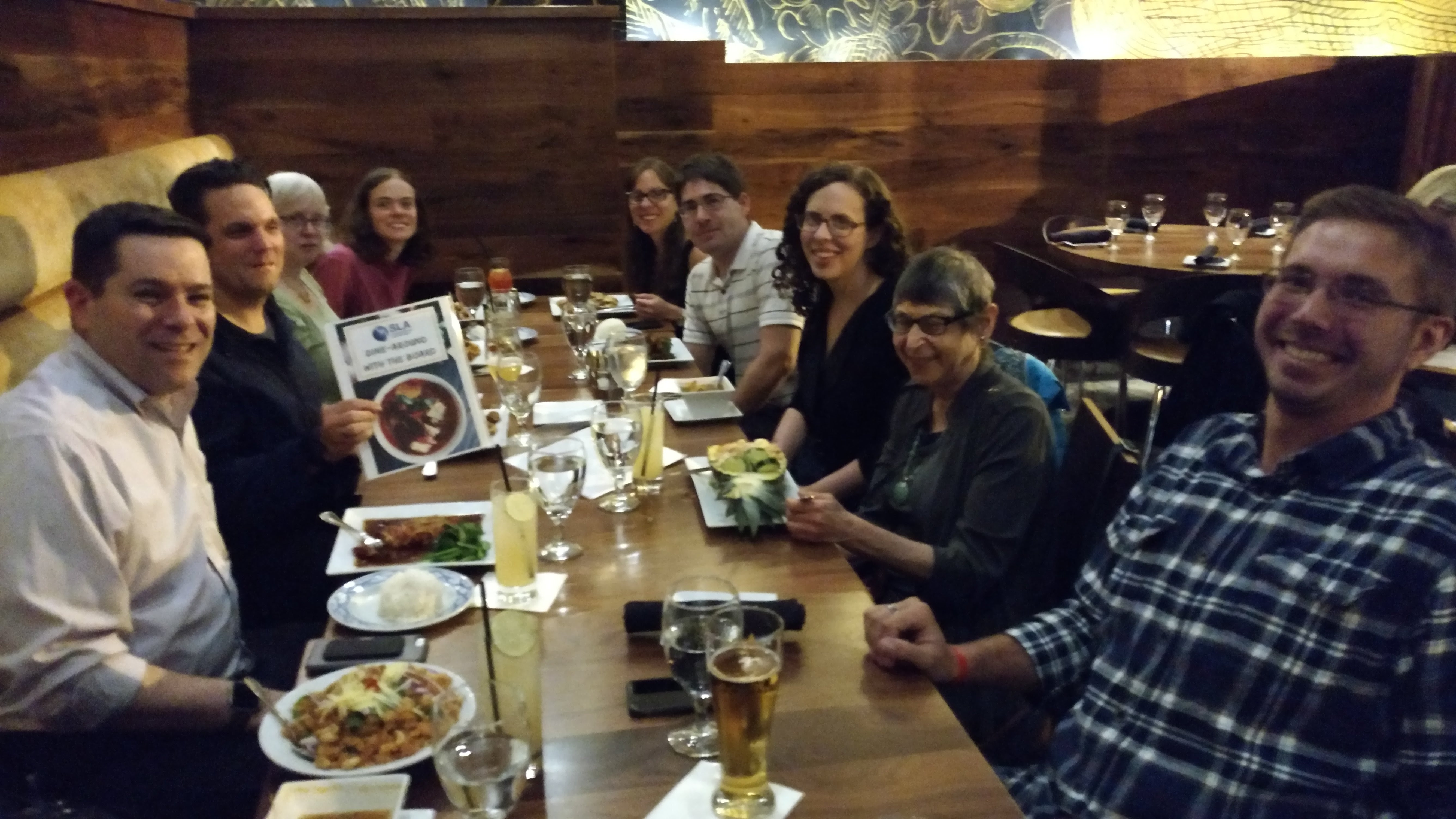 Attendees enjoying the post-meal discussion.
Gathering the Board of DCSLA can be like the annual Festivus, starting out with the airing of grievance and possibly moving into the feats of strength, but at its core it is about gathering together and enjoying a meal. At Soi38 it involved eating good Thai Street Food, a few drinks, and appreciation for new opportunities.
---
4th Annual Battle of the Librarians Trivia Night!
The Importance of signage at Hill Country BBQ 
In fun collaboration with LLSDC, 8 teams tested their knowledge as much their ability to find information with obscure questions.
For those who couldn't attend, many held their own with remembering Disney and non-Disney songs, beer labels, TV show head shots, history, sports, and many other subjects.
Competition was neck and neck for most teams and ended with the final question on the most popular nut in the world produced in the US (Answer is Almonds), which made Team Mary Mary Quiet Library the winner, with second place going to the team 3.12.
Looking forward to next year to enjoy the food, friends, and competition.
Upcoming Events
As the weather gets colder, lets enjoy the indoors together.
---
Student SLA Happy Hour at Bar Louie in Gallery Place/ Chinatown
If you are a STUDENT SLA member or want to connect with SLA Students, please come to our Happy Hour. There is a standard bar, as well as happy hour deals, in addition to a good menu (which has some vegetarian options available).
A 15 person limit for registration is required so sign up soon.
Thursday, October 16, 2017
6:00-8:00 PM
Bar Louie
707 7th St NW
Washington, DC 20001
More information and register here: http://dc.sla1.org/events/?ee=452
---
SLA Happy Hour at Kona Grill in Rosslyn
Take a break from all the holiday madness for some mixed Asian/American cuisine and drinks. Located closest to the Rossyln metro stop.
Tuesday, November 28, 2017
5:30-7:30 PM
1776 Wilson Blvd
Arlington, VA
More information and Register here: http://dc.sla1.org/events/?ee=453
---
DC-SLA Chapter Holiday Party/Business Meeting
Come join DC/SLA as we close out another year by celebrating with each other, good food, and unique architecture at the Mansion on O Street.
We will be providing food and drink, just bring yourselves, your reading materials, and your fellow librarians.
Tuesday, December 5, 2017
6:00 to 8:30pm
Mansion on O
2020 O st. N.W.
Washington, D.C. 20036
More information and register here: http://dc.sla1.org/events/?ee=454
Keep an eye on our events calendar for other upcoming activities.
---
SUGGESTIONS FOR EVENTS
We want to take advantage of the great ideas our members can offer and would like to expand, so if you have any ideas or interesting events you want to pitch to us, please email me at communications@dc.sla.org
We would like to have an educational event in the Fall and incorporate your ideas into the planning.